My first stop on the North Island was Auckland. I arrived there around midday Sunday, February 26th and the very first thing I noticed were the big blue letters on signs and boards saying Haere Mai! Welcome to New Zealand. Unlike Australia, New Zealand appeared to have integrated its indigenous population quite well and on top of that seemed respectfully proud of its Maori history.
After withdrawing my first batch of fresh NZ dollars I was ready to head to my hostel which I had made sure to be conveniently located in the heart of the city. When getting off the Airport Bus me being unlikely disoriented, first walked in the wrong direction for like 10 minutes until I eventually found "The Attic Backpackers" and checked into my dorm. The hostel was probably one of the best and cleanest I stayed in so far. Very spacious and it offered services such as booking tours and transportation as well as access to computers. However, it wasn't really the most social place to stay in which was fine with me since I was leaving early the next morning.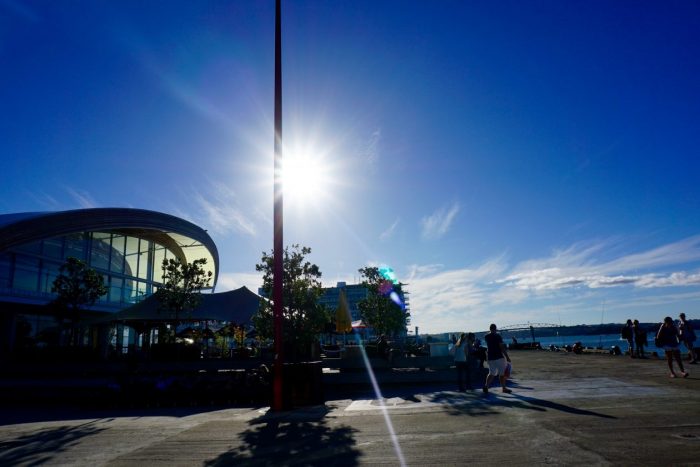 I spent the rest of the day walking around downtown Auckland. I sat by the docks looking over the ocean, munched on some artisan vegan ice cream in this little, seemingly haute cuisine, dessert place and found happiness when Avocados in the store were just $1.66 each.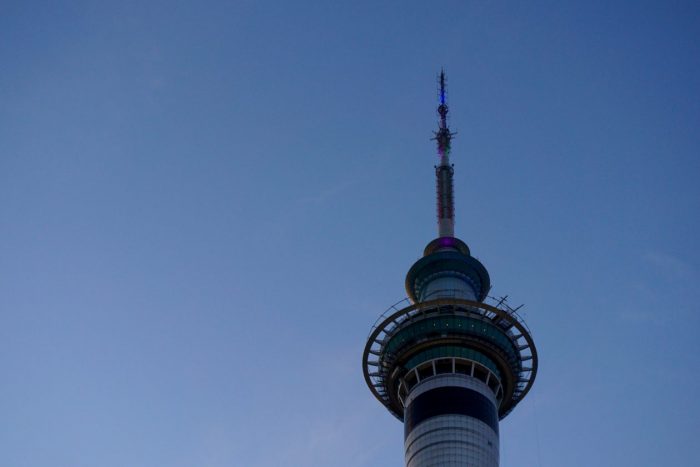 I left Auckland the next morning on an InterCity bus without having seen the neighbourhood Ponsonby which I slightly regret but that's just another thing I'll do when I come back.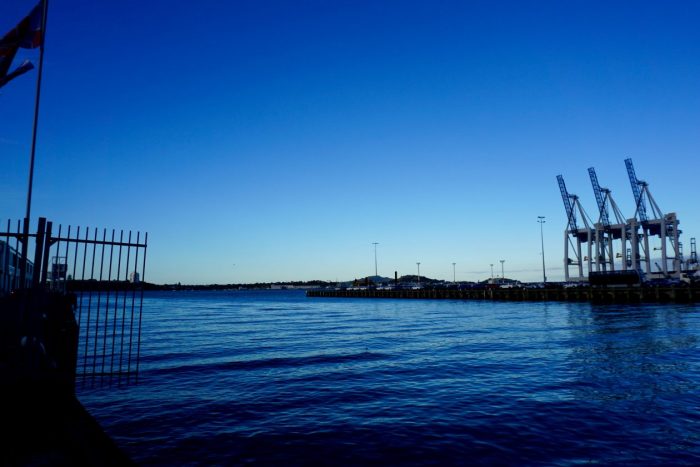 On the way to Rotorua, stop number two, we passed hills on hills covered in juicy meadow, the grass really does seem greener over here (insert fake TV laughter here). At the time it felt like it took long to reach Rotorua but I didn't know that this 4 hour bus ride would be one of the shorter InterCity journeys I would go on during my trip.
They say you smell Rotorua before you see it and boy, were they right. As I was just stuffing the half empty punnet of cherry tomatoes and the leftover Avocado back into my bag, a sudden wave of "bad egg smell" hit me which first had me a little surprised and immediately sniffing into my backpack, trying to figure out where it was coming from until I realised we had arrived at our destination. The "bad egg smell", formally known as sulphur. was ever present during my stay in Rotorua. At some places it was stronger than others and although it seemed slightly disturbing at first, you actually get used to it pretty quickly. It also reminded me of the time me and my family travelled to Iceland where even the water coming out of the tap smelled like sulphur.
On my first day in Rotorua, after settling into my hostel "Crash Palace" (highly recommend this place, super friendly and social, great location and CLEAN) I befriended another fellow German who insisted that we would speak English. It surprised me at first but didn't really bother me. We walked around the lake, took photos of birds and mud holes before I returned to the Polynesian Spa to treat myself with a generous amount of sulphuric hot spring water. I was slightly disappointed with the architectural design of the place (I bought a ticket for the "Adult Pools" I later heard the private ones are much nicer) as I had been imagining a smaller, less epic version of the Blue Lagoon in Iceland. I quickly decided to see just past that and simply enjoy myself while wandering from one hot pool to the next. The only difference there was between the 10 or so basins were the slight changes in temperature (form 38 – 42 C°) as well as the naturally infused minerals either being acidic or alkaline. Laying in the steaming hot water while looking out on the lake I suddenly felt a big wave of gratitude, how was it possible that I was actually in New Zealand?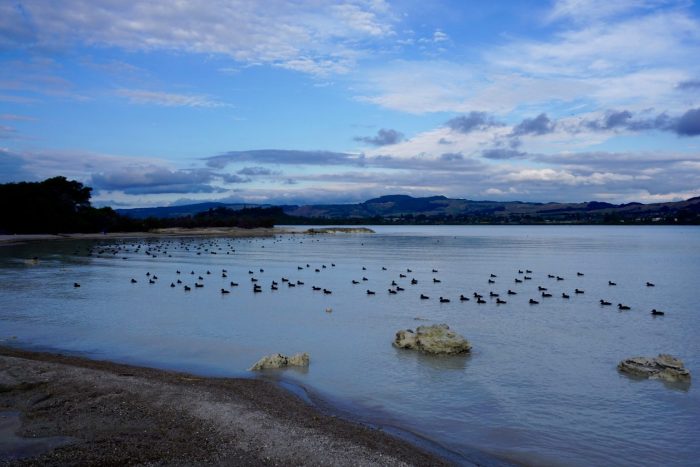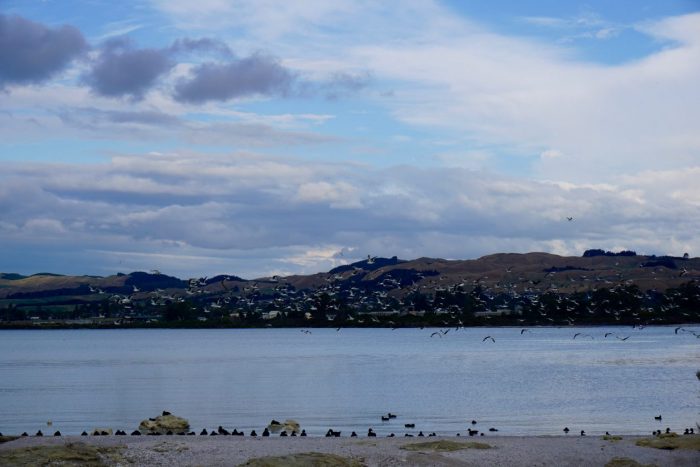 The next morning I first headed to the local Redwood forest which had me in awe of its immense trees. I just wandered in between the beautiful giants enjoying the quiet sounds of the forest (while every now and then powerwalking away from a noisy Asian travel group).
Catching a local bus back to the town centre I met up with my friend Lotte who I had met back in Sydney and now by chance (or not really) was in Rotorua at the same time as me. I keep being stunned at the universe being amazing like that.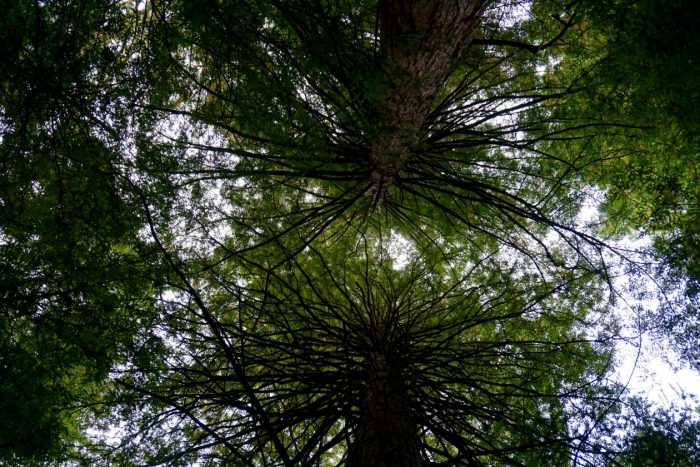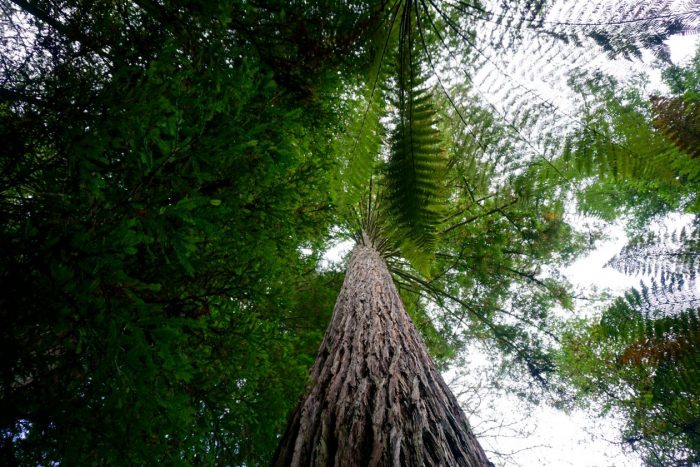 The same afternoon I also visited Te Puia, an areal displaying both the natural wonders of the area as well as the culture heritage of Rotorua and its surroundings. Our tour guide showed us "dancing" mud pools, explained about the weaving and wood carving schools for the local Maoris and took us to see the highest geyser on the Southern hemisphere.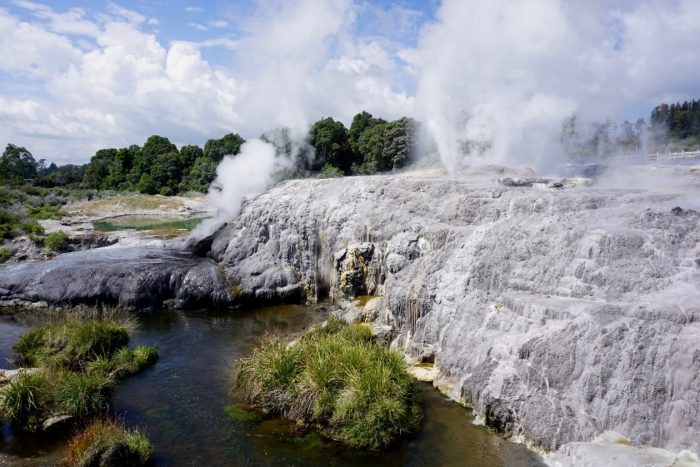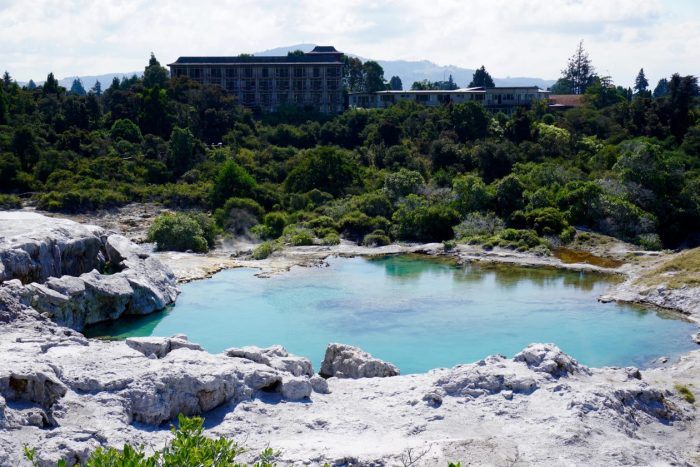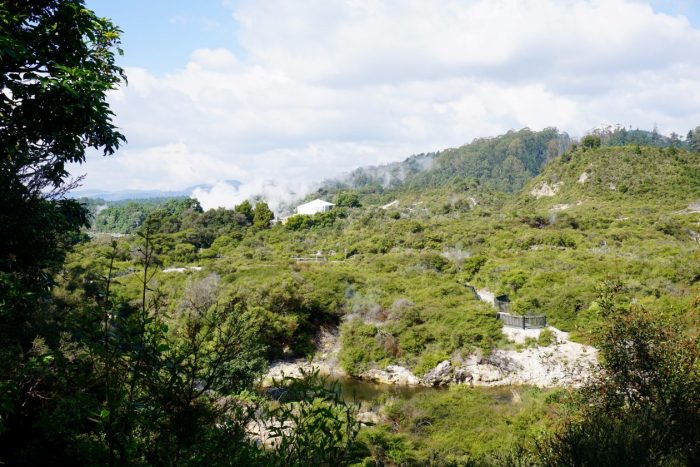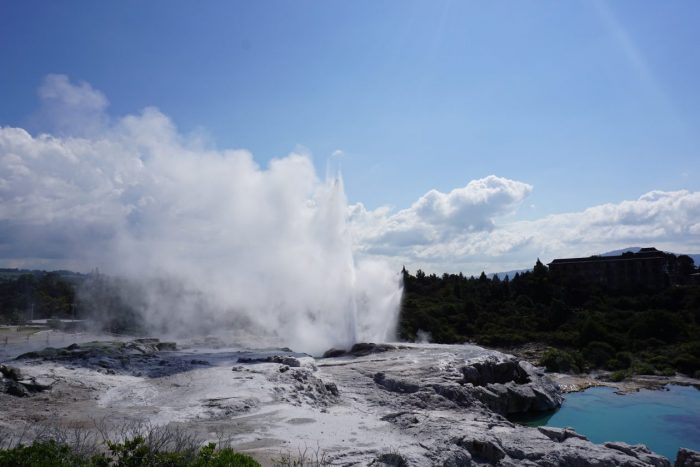 The same day, as if it wasn't already enough, I also met and befriended one of my dorm mates, Kirstin from the United States who would later become my road trip partner on the South Island. In only three days I had experienced and seen so much and my adventure hadn't really started yet!
After two nights in Rotorua it was time to leave again. A small shuttle bus picked me up at my hostel at 6:40 in the morning taking me to the Waitomo Glowworm Caves. Our driver was a very knowledgable and friendly Maori who would never run out of facts and stories to tell on our 2 and 1/2 h ride. I started talking to this girl from Canada who was travelling the opposite direction as me and gave me tips on places to stay in the South as well as just being lovely company.
When we finally arrived and got our tickets, I was a little bit sad that I had only bought the one for the cave where cameras were not allowed but not sad enough to purchase the upgrade. Soon our tour started and we entered the cold and wet underground world. The cave was much bigger than expected and so was our group but the deeper we went into it the more fascinating it became. Giant stalactites appeared in front of us and when we spotted the first glowworms my urge to just take a photo became stronger and stronger.
When we reached the "river" the first half of our group was loaded on to the boat and soon glided off into the dark. Me and the Canadian girl both being in the second group stood full of anticipation and awe at the front of the dock staring up to the ceiling where more and more glowworms had appeared. When it was finally time for us, I had forgotten about wanting to take a photo, it felt unimportant now that I was fully immersed in this strange world.
The boat slowly started moving towards an invisible destination and as it got darker, the chatter of our fellow travellers faded while the glowworms increased with every meter our guide pushed the boat along the rock wall. mMy head in the back it felt like staring into the night sky. Hundreds of thousands bluish "stars" appeared above us, their light reflecting on the black surface of the water. I wish I had a photo to show you how magical it was though I doubt it would to it any justice.
When we had to get out of the boat, now outside of the cave in the warm sunlight, I felt strange yet full of gratitude for the beauty I had just witnessed.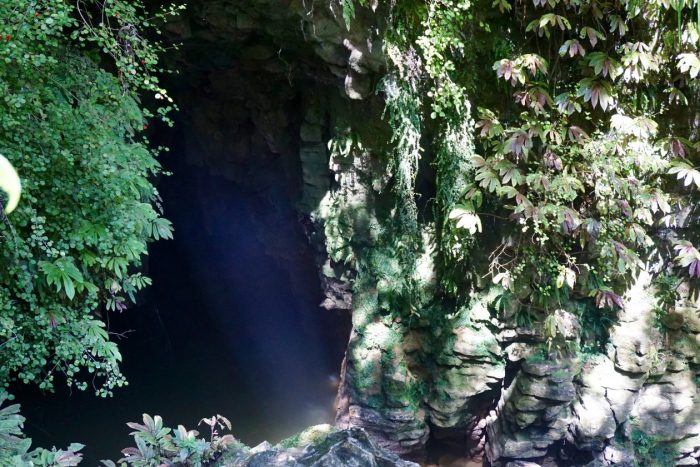 Since some of the people on my shuttle were doing a much longer tour the ones who didn't had to wait for them before driving the next stop. To keep us from being bored, our driver showed us a little forest hike around and through small caves and along a little stream.
Later a different driver took us to the Hobbiton, the second stop for everyone on the bus but me. I figured without having read or seen any of the Hobbit movies/books it would not really be worth the money so I just used the time I was waiting for the others to finish their tour to book my accommodation for the South Island.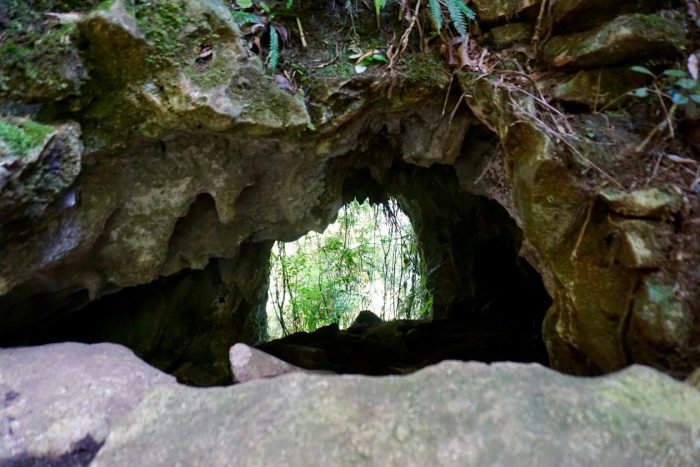 On our drive back to Auckland I met another two very lovely girls from England as well as a girl from Chile who was, believe it or not, in New Zealand for just 2 days.
I got dropped off at a town close to the airport from where I caught a local bus to the terminal in which I planned to spend the night at since my flight to Christchurch was at 6:30 the next morning though this idea would prove to not really be the best one…